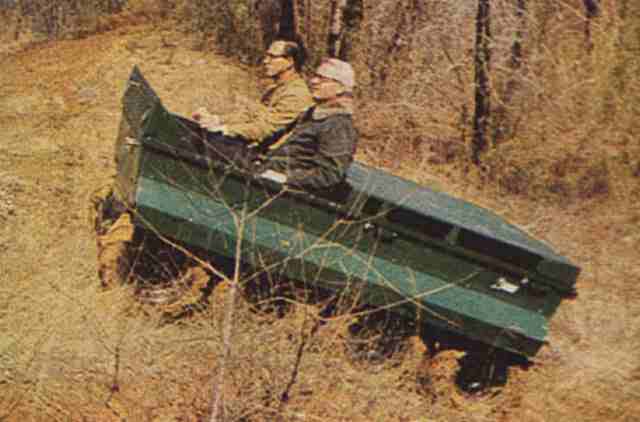 The KID vehicle was developed in 1969 by LTV Aerospace of Tyler, Texas. Designed for use by American armed forces in Vietnam, this mil-spec ATV combined the mobility of an 8x8 with the flexibility and utility of a tractor. Some of the features that set this ATV apart from others was:
All Steel Construction
Full-Time 8x8 Drive
Hydrostatic drive (Sperry-Rand)
Mil-Spec Components
30 HP Wisconsin Engine
PTO Shaft At Rear (for propeller or implements)
Ability to climb 70 degree slopes
Only a few of these vehicles ever made it to Vietnam. Apparently the contract was not awarded to LTV and the machine never went into mass production. Only about 1000 were made and were sold stateside at a fraction of their original price.
I'm currently rebuilding and modifying a KID I purchased in Texas. This is really an amazing machine. It rivals the machines available 30 years later. If you've never driven a hydrostatic machine, you haven't experienced true mobility. These machines can spin in place (counter-rotate) and you can do crazy stuff. Imagine driving 25mph, turning and pulling back the stick so that you're now traveling at the same speed in reverse. All without every stopping or switching gears. It's poetry in motion.
Below are some "before" pictures. I'll soon have some after pictures as well as manuals posted online. Check back soon.
Before Restoration...
Click image for larger view.
Here's some shots of the vehicle as of 12/1/97. Still have a few more items to add, like the dash and push bars and some other odds and ends.
To see what I tow this monster with, click here.